Product:
Before Five in a Row
Company: Five in a Row
Price: $35
Website: www.fiarhq.com
One of my first memories of traditional homeschooling my son is Five in a Row. When he was in the 1st grade, we used this curriculum. We "rowed" many books that year but the most memorable was
The Story of Ping
. Griffin still knows where the Yangtze River is because of this book. That was 6 years ago and I don't think I have mentioned it before.
Are you looking for memorable curriculum that is easy and fun? I believe that FIAR gives that to homeschooling parents. The concept behind FIAR is that you will read a story five days in a row. Sounds simple, right? Well, it is. Each day you read a book to your child. The original FIAR books are geared toward early elementary students and there is also Beyond Five in a Row for older elementary students.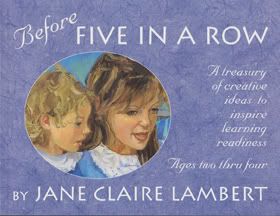 Fast forward 6 years. I was so excited to see Before Five in a Row as a vendor for the TOS review team. I now babysit several little ones that are between the ages of 2-4. This is the recommended age for BFIAR. This is the book you use for children who really want to be included but are not ready for traditional schooling. All kids love to be read to. Snuggle time is a precious time and the kids I keep are no different. They love stories. Now, it is amazing to watch as Griffin and Bella can read to the littler ones. Because the kids we used this with are not mine, I have not included pictures of them in this review. But, believe me, they are so sweet when they have a book and are cuddled up on the couch.
The book is divided into two parts. The first tells a ton of simple ideas and activities developed around 24 amazing books written for children.
This is a list of just a few of our favorites:
Jessee bear, What will you wear?
Blueberries for Sal
Goodnight Moon
Jenny's Surprise Summer
This book isn't really meant to teach. It is just to provide an introduction to books and help you as the parent, provide a plethora of interesting topics, activities and ideas to bring the story to life. There are activities suggested for all aspects of a toddlers life including bath time, kitchen time and bedtime.

The second part is called the Paren'ts Treasury of Ideas. This is a treasure trove of ideas for you to do with your little ones. Honestly, there are many that I would do with my older children as well.

Did you notice that I said earlier that we "rowed" books? Were you confused? The term "rower" just means that we read a Five in a Row (Or Before Five in a Row) book and did the activites. There are thousands of families that are rowing books and having an amazing time learning. For this r
eview, we rowed two different books so far. They were Caps for Sale and Corduroy. I was lucky enough that our local library had both of these books on the shelf along with several other books from the BFIAR selections. Each day you read the story together. Then there are different concepts that you can cover.
In Caps for Sale, we went over Proverbs 6:10 and 11 for Bible. For Math, we counted the caps, the monkeys and had a short lesson money. There was language arts where we learned new words and Sayings. For Science we talked about posture and for Art looked at the illustrations. We also talked about order because the man in the story always stacked his hats in the same order. We talked about the man's character and how he showed frustration, anger and then happiness when the caps were returned. See how so much is introduced in just 5 days. The kids had a great time reading and learning with this book.
I think that BFIAR (and FIAR) are excellent ways to teach your children without them even knowing it. They are written by Steve and Jane Claire Lambert (Jane wrote BFIAR by herself) and you can purchase BFIAR or any of the FIAR products by visiting
Rainbow Resource
. The Lambert's have decided to allow this company to handle all of their sales so they can devote more time to traveling and family and still ensure that their customers have excellent service. You can view their website and see a special explanation of the book
here
.
Our family gives Before Five in a Row

Smiley guide:
1 Smiley - Product not really for our family. Probably wouldn't buy. This really should probably be a frown face but we hate to be negative.
2 Smileys - Would maybe buy this product if on sale. Not a great fit for our family.
3 Smileys - We really liked this product and would probably recommend this to friends and fellow homeschoolers.
4 – Smileys – Definitely would buy this if the budget would allow. We suggest you check this out to see if it is a fit for your family.
5 Smileys – Would sell the family pets to get this one (just kidding). A must have for our family and we think you should get it too.
To see what my fellow crew mates have to say about this this product, click here.
For giveaways,and other great stuff, please check out the TOS Homeschool Crew blog by clicking below.
Please note: I received this product for free in exchange for my honest opinion in this review. No other compensation was provided. Thank you to Five in a Row and TOS for this opportunity.