One of the reasons we homeschool is to instill a strong Biblical foundation for our children's education. Deeper Roots Publications has helped fulfill that for my pre-teen son. We received
Discovering Our Amazing God
Bible curriculum to review as part of the TOS Homeschool crew.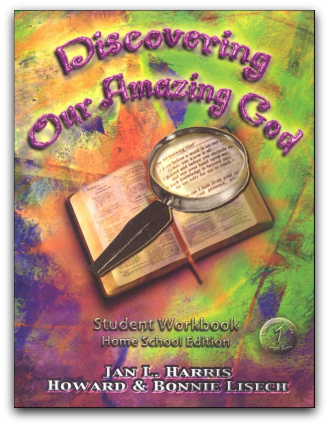 This is for junior high students and goes beyond the facts of the Bible Stories to the seriousness of getting closer to God.
Griffin likes this because the artwork is done in a cute comic book like way. This is great for getting the attention of boys this age. Jan Harris, Howard Lisech, and Bonnie Lisech are the writers of this curriculum and have many degrees and years of teaching combined.
Each lesson introduces a new group of people and puts an emphasis on world missions through prayer. We have started praying daily for people who we don't know but we understand that need God in their lives. During the week, there are one or two verses to learn. The authors believe that memory verse is vital to becoming close with God. Our family believes the same. We go over memory work together as a family and do not require it to be written. Although, sometimes we do use the verses as copywork.
My favorite thing about the curriculum is the use of journaling. Griffin really doesn't like to write. But with this journal, he is encouraged to write whatever he feels like and I have told him I will not read it unless he wants me too (So far he hasn't). I feel like this is a great way for him to write his feelings about God or anything else he wants to without fear of being graded or ridiculed for what he says. We gave him a new notebook to write in and I hope he fills it up before we are finished with this curriculum. The first lessons talk about how David in the Bible had kept a journal and today we read it in the Psalms. Wouldn't it be amazing if someday, someone read our children's journals and grew closer to God because of what they say.
I also like that many other subjects come into play while learning about God's word. English and writing are especially included.
I received the student's and the Teacher's edition. The teacher's book is great. I have enjoyed learning along with Griffin and can't wait to see where getting deeper into God's word takes us. This is the 1st book in a series of Bible Curriculum from Deeper Roots.
You can purchase these workbooks by visiting the
Deeper Roots Website
. The Student workbook is $19.95 and is recommended for Junior High Students. The Teacher's Manual is available for $28.95.
Our family gives Discovering Our Amazing God

Smiley guide:
1 Smiley - Product not really for our family. Probably wouldn't buy. This really should probably be a frown face but we hate to be negative.
2 Smileys - Would maybe buy this product if on sale. Not a great fit for our family.
3 Smileys - We really liked this product and would probably recommend this to friends and fellow homeschoolers.
4 – Smileys – Definitely would buy this if the budget would allow. We suggest you check this out to see if it is a fit for your family.
5 Smileys – Would sell the family pets to get this one (just kidding). A must have for our family and we think you should get it too.
To see what my fellow crew mates have to say about this this product, click here.
For giveaways,and other great stuff, please check out the TOS Homeschool Crew blog by clicking below.
Please note: I received this product for free in exchange for my honest opinion in this review. No other compensation was provided. Thank you to Deeper Roots Publication and TOS for this opportunity.