I have always been a good speller. It just comes naturally to me. Unfortunately, my children didn't inherit my gift for this. Instead they got their spelling habits from their father.
Who thinkz speling is fenetic and spellz evry theng lik it soundz. Now that may be the case in shorthand and court reporting but other than that, it doesn't work like that.
I was given the opportunity to review
See N Spell
through The Old Schoolhouse Homeschool Crew. This is a 40 page booklet that helps your student with spelling. It isn't a spelling curriculum. It is more of a
spelling aide
. It is divided into three sections:
1. Most commonly used Vocabulary Words
2. Commonly misspelled words.
3. My special Interest Words.
All your student has to do it turn to the page with the correct beginning letter, scroll through the page (listed in alphabetical order) and copy the word onto their own work.
Very Easy.
This is great for when they are writing a paper or just doing homework. My kids hate to look up words in the dictionary because it is so big. This booklet can be kept in a folder easily and is easy to use. They both really liked it. It is recommeded for 4th grade to adult (maybe I can get my husband to use it). Both of them liked the section where they could add their own words at the back.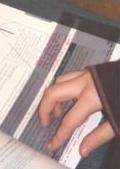 Each
See-N-Spell™ booklet
also comes with a See-N-Read® reading tool. I thought the kids would love this but neither one did. This is what I would call a bookmark size reading helper. It has a see through area that you can use to keep your place in whatever you are focusing on. This helps those who have trouble concentrating when there is a lot of things on a page. Whether it is words or pictures this device helps you focus on what you are reading, line by line. I can see how this would help a reader who gets distracted with reading.
The See-N-Spell booklet costs $9.99 and you get the reading tool (a $2.99 value) for free.
You can read what the other crew members have to say about this product
here
.
I received this item at no cost in exchange for my honest opinion in this review. No other compensation was provided. Thank you to the companies for this opportunity.