I have been blessed to be picked as a part of the
Mosaics Review
Team. This is an online review team made up of a vast variety of people who love to give their opinion's on products. The team is still looking for people so if you have a blog and would like to join, check out the
web page
.
Our first assignment (review) allowed us to pick from 10 different free online blog pla
nners. After looking at all of them, it was difficult to pick just one. I chose one designed by a fellow homeschooler, Erica at
Confessions of a Homeschooler
. If you are looking for a great way to organize your blog posts, this may be just what you are looking for. (This is not specific to homeschoolers so anyone can use it.)
Please know before you read this that I am probably one of the most unorganized people you will ever meet. My house is usually only slightly above a mess. My kid's school books are generally lost more often than not. My laundry, well, I won't even tell you about that. I have a calendar in my phone but that is for things I have to get done in my daily life and I have a hard time keeping track of things on there. I like paper calendars. I like to write and then highlight things. I'm a highlighting kind of person. You should see my Bible.
So when I was introduced to these planners, I thought, "Wow, here's a chance to be organized!" I really want that. I hate feeling like I can't find anything. If you have followed my blog for very long, you probably realize, I don't keep up with it any better than I do my home. This has been a crazy year and my blog has suffered. I'm working on getting that remedied.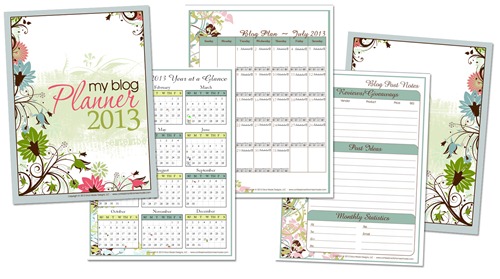 What I am looking for in a blog planner is simple. I just need someplace to keep track of my reviews, giveaways and all of the things for the Mosaic Review team.
My Blog Planner
2013 has everything I need to do that. This is a 27 page planner that is available in two different styles. You can either chose a calendar style or one that has a lined format.
I chose the calendar style. This works for me better because I can write when reviews are
due on the calendar side and then notes and post ideas on the opposite page. You can print it front and back but I chose to print on separate sheets of paper, just because it was easier. Erica suggests after printing it to take it and have it made into a spiral binder but I put mine in a three ring binder and that works great for me. I love the floral design of this planner. Each month is a different color scheme and has really nice graphics.
The calendar includes
A Year at a Glance
Calendar Style Post layout: Each calendar day includes a check box for if the post is scheduled, if it's a review/giveaway, and if you've shared it with the following social media; Facebook, Twitter , Google Plus and Pinterest.
A Blog Notes Page: This page has room for giveaway and review vendor information, post ideas, and a place to track monthly statistics.
I can't say this has made me a better blogger, yet; but if I can continue to find it, I'm sure it will help me stay on top of my blog a lot easier.
Did I mention this is FREE!!!! You can get your own copy
here
.
If you would like to see more reviews on this planner, or see what my friends have to say about the other 9 planners we could chose from, you can view them at
Mosiacs Review
.