Product: Pig Pile
Company: R&R Games
Price: $15.95 (check out the code below for a discount)
Our family loves games. We try to have a weekly game night where the entire family plays board games or cards. The kids were so excited that our first item to review this year for The Old Schoolhouse Crew was for a game. We received the game Pig Pile. It is recommended for ages 7 and up and is for 3-6 players.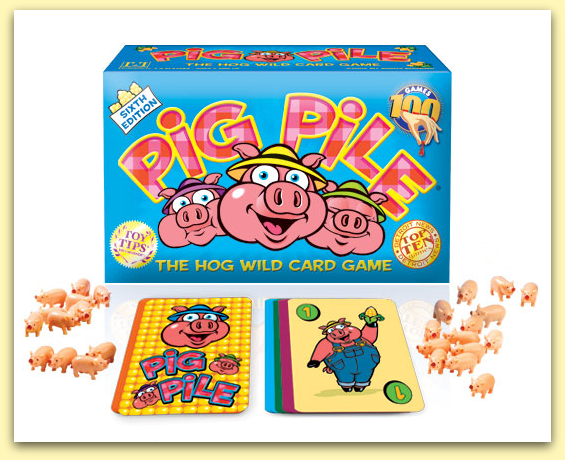 Doesn't it look too stinking cute? My kids have been playing this since we got it and honestly, today is the first day I have played it with them. Bella told me she would explain the rules to me and help me write my review. LOL
When I asked her where the directions were, she said, "Um, I think we lost them." So, now I know why she was so ready to help me. I will explain how we played the game. But, I have no idea if it is the correct rules. I asked my husband because he has played it with them several times. He said, and I quote, "I hate that game. It's like Uno. I hate it. I never understood the rules and I don't think we played it right". Guess he's not a big fan of it. Maybe I shouldn't have asked him.
Bella dealt out 6 cards. We put three face down and three face up. She explained that these would be used only after all of our cards in our hands and the "pig pile" were used up. Each time we played a card, we had to draw a card from the pile. The discard pile was where we put a card with either the same number or a higher number card. The cards go up to the number 12. There
are 4 cards that have special actions that go along with them. You either lose a turn, wipe out the pile, or reverse directions with these. There is also a wild card that you can make anything you like.

Basically, we did play like Uno until we got to the end of the game. When our cards were gone out of our hand, we were allowed to use the
cards we had laid on the table. It got kind of tricky here because Bella couldn't remember what to do at this point. And remember, we have no directions. So like any good homeschooling mama, I made them up. I won so I got three piggies. Bella got two. Griffin put them on top of each other, as you can see in the
picture. You are supposed to play five times and the person with the most pigs at the end, wins.
We had a lot of fun playing the game even if we didn't play it right. You can read what all of the other crew members have to say about this game here. Now that I'm looking over the website for the company again, I see they have the rules posted. That's a big plus in my book. We obviously have a hard time keeping track of those kind of things in this house. My husband says this game is perfect for us cuz we live in a pig pen. He's such a comedian.
The game comes with 80 cards, 40 pigs and the directions. Like I said, we had a lot of fun with the game. But, the kids also had fun just playing with the pigs. Bella cooked them in her play
kitchen. She says they don't really smell like bacon though.
Griffin played with them with his lincoln logs.
And me? Well, I always regress to my cheerleading days so here's what I did with them.

Wow, they make great pyramids.

The game is very reasonable priced at $15.95. But, R&R Games has graciously allowed crew members to offer a discount of 20% off any order until the end of the year. Use the code CREW20. I think this game would make a great Christmas gift. I am going to get a few other games as well for the kids on my list (not just my own). They have many other board games besides this one along with card games and more. I think these are a great way to get the kids away from the TV. I am totally vetoing my husband's opinion on this game. I really loved it and so do the kids.
Now, on to read those directions and play again. Did I mention we love games?
I was going to try to come up with a new guide for this years crew items but I really like my smiley guide so for now I'm gonna keep it.
Our family gives Pig Pile
Smiley guide:
1 Smiley - Product not really for our family. Probably wouldn't buy. This really should probably be a frown face but we hate to be negative.
2 Smileys - Would maybe buy this product if on sale. Not a great fit for our family.
3 Smileys - We really liked this product and would probably recommend this to friends and fellow homeschoolers.
4 – Smileys – Definitely would buy this if the budget would allow. We suggest you check this out to see if it is a fit for your family.
5 Smileys – Would sell the family pets(even the pigs) to get this one (just kidding). A must have for our family and we think you should get it too.
To see what my fellow crew mates have to say about this this product, click here.
For giveaways,and other great stuff, please check out the TOS Homeschool Crew blog by clicking below.
Please note: I received this product for free in exchange for my honest opinion in this review. No other compensation was provided. Thank you to R & R Games and TOS for this opportunity.