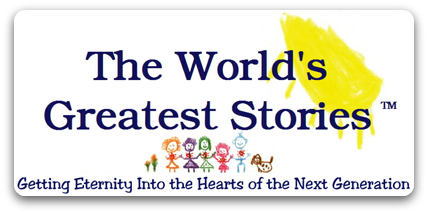 Wanna hear a great story? It's not new by any means. It really is the greatest story in the whole wide world! And what's best of all is it is a true story. Aren't those the best kind?
Wanna know what it is?
It's the story of how you can have eternal life!!!
Yep, it's the Bible!
I know, I know. It's really hard to find time to read the Bible, right?
Well now you (and your kids) can listen to these amazing stories on CD.
World's Greatest Stories
Shh. Don't tell anyone, but Mom's and Dad's love them too.
These are 6 beautifully created CD's that tell the stories of the Bible. Each one is $7.95 and can be purchased
here.
Actor, George W. Sarris brings these stories to life with music and fun interesting voices.
Check out the website for
World's Greatest Stories.
I received Volume 1,The Prophets and we are enjoying listening to these great stories.
Stories on this CD include The Blazing Furnace, The Handwriting on the Wall, Daniel in the Lions' Den, Elijah and the Prophets of Baal and The Prophecy of JonahThese are great for any age. We listen to this while the kids are eating lunch and in the car. Each CD (or cassette, they still kick it old school too) is about an hour long. We listen just a little bit at a time and the kids really remember the stories. You can pick from NIV version or the King James Bible. There is nothing taken away or added to the stories.
Our Family gives World's Greatest Stories
Smiley guide
1 Smiley - Product not really for our family. Probably wouldn't buy. This really should probably be a frown face but we hate to be negative.
2 Smileys - Would maybe buy this product if on sale. Not a great fit for our family.
3 Smileys - We really liked this product and would probably recommend this to friends and fellow homeschoolers.
4 – Smileys – Definitely would buy this if the budget would allow. We suggest you check this out to see if it is a fit for your family.
5 Smileys – Would sell the family pets to get this one (just kidding). A must have for our family and we think you should get it too.
To see what my fellow crew mates have to say about this this product, click here.
For giveaways,and other great stuff, please check out the TOS Homeschool Crew blog by clicking below.
Please note: I received this product in exchange for my honest opinion in this review. No other compensation was provided. Thank you to World's Greatest Stories and
TOS
for this opportunity.